The Auto Development Policy (ADP) 2016-2021 has attracted around 21 investors who have been granted Greenfield status under the policy.
Two closed units have been revived under Brownfield status. Total investment attracted under ADP 2016-2020 stood at one billion dollars.
Consumers are now seeing the positive results of the policy. Lucky Motor Corporation is rolling out various Kia models like Sportage, Picanto and Sorento at its plant at Port Qasim Industrial Park while Hyundai Tucson and Porter are being assembled at Faisalabad Industrial Area (M3), while more models are planned by the Nishat Group. These two players are set to change auto market dynamics in coming years.
These are the two major investments from Korea which is now making prospective buyers wild towards Sportage and Tucson mainly. These players are ready to grab more market share in coming one to two years with plans of introducing more vehicles in the local assembly lines.
Regal Automobiles with its models of Prince 800cc cars and Glory SUVs looks determined to shake up Japanese and Korean competitors. Foton JW Auto Park is the only investor for light commercial vehicle sector under ADP 2016-21 has create marketplace in country while Master Motors and United Motors are also trying to make their presence felt in the market in which Master excels with other players. Master Motors eyes Alsvin vehicles as its game changer vehicle.
The government had, however, tried to create a competition in the market by granting licenses to new entrants and this move is paying off especially in the case of two Korean assemblers and two to three Chinese assemblers.
However, the ADP 2016-2021 has also a grey area. For example, plans of Al-Futtaim to launch Renault vehicles in Pakistan hit the snags as reportedly the firm has shown no progress.
Pak CAMC, Pak China Motors and Al-Futtaim under ADP 2016-21 have not signed an agreement with the Ministry of Industries and Production (MoIP) and neither shown any progress. MoIP had, however, desired to deliberate the cases of cancellation of Greenfield status of Pak CAMC and Pak China Motors.
Dewan Farooq Motors Limited started production in 2018. However, the firm could not continue due to various macroeconomic factors i.e. rupee devaluation etc. The firm requested for extension of one year in their existing Brownfield expiry date of March 05, 2022. Engineering Development Board (EDB) is of the view that as per policy no such extension can be granted.
Premier Motors Ltd. signed an agreement with Volkswagen, Germany to produce Volkswagen brand automotive vehicles in Pakistan. The firm CKD manufacturing as per their business plan submitted in November 2019 was delayed due to prevailing situation due to Covid-19/Lockdown. Premier Motors Ltd informed the government that the firm was not able to hold design review meetings, design approval and manufacturing release for the equipment with vendors and with their principle in Germany due to lockdown and travel ban etc. The firm was not able to proceed with construction at the production site due to non-availability of labor during execution of construction activities. Therefore, the firm requested an extension in their planned start of production date by nine months, i.e. from July 01, 2021 to March 31, 2022.
Ghandharna Nissan Limited and Nissan Motor of Japan joint project to introduce various models of Datsun vehicles had also failed to become a practical reality.
Pakistan also witnessed United Bravo 800cc car two years back but it could not succeed the way it was introduced with fanfare. However, its manufacturer has not lost hope and again dared to launch Alpha 1,000cc in January 2021 hoping to carve a niche in the tough market dominated by Japanese assemblers.
MG SUV by MG Motors Pakistan has already become popular in the media with a case of under invoicing on which the Federal Board of Revenue (FBR) has still not given any clear stance and the issue is only being highlighted in the media, while the MG SUV importer has been terming under invoicing as a weak case. However, MG SUVs has created additional interest among the prospective buyers as the company has imported vehicles in higher numbers to test the consumers' response.
Meanwhile, commenting on the ADP 2016-2021, EDB spokesman said the auto policy was mainly for newcomers and they have responded well.
One of the main objectives of ADP 2016-21 was that it had lured more players, introduced competition and access to WP 29 regulations which is another major achievement
He said the auto policy was for new entrants mainly as new entrants in the car segment were given 20 per cent advantage over existing players in custom duty on both localized and non localized parts. For existing players 32.5 percent and 47.5 per cent duties were reduced by 2.5 per cent, he added.
"Affordable cars and focus must be on increasing volumes through local sales and exports," the EDB spokesman said adding "if Volkswagen starts production, the investment or completion will be enough for the time being in my view."
A case of cutoff date had also been discussed in the recent AIDC meeting followed by request by some companies to extend their planned production date.
The matter of cut-off date was discussed during Agenda item 2 in the 33rd AIDC meeting wherein EDB informed that cut-off period under policy is June 30, 2026; i.e. if a variant is launched in June 2021, then it can avail benefits will June 2026 however, if a variant is launched in June 2022, than cut-off date of June 2026 will apply. However, cut-off date matter is being constantly highlighted therefore matter is placed before the AIDC for advice.
EDB visited the site and found that Premier Motors Ltd has acquired 140 acre land and erected the boundary wall. The civil work in progress is slow. However, the project has the potential to provide a large number of employment opportunities to locals in Lasbella, Balochistan.
A Korean vehicle assembler had urged the EDB that the differential of duties between existing players and new entrants should be kept intact, as any reduction in such differential will hurt the new entrants under ADP 2016-21. EDB had assured the Korean assembler that no such budget proposal has been deliberated/forwarded by the EDB.
Topsum Motor was granted status and after a lapse of two years the firm submitted a business plan through the Board of Investment with new principals including Zotye. The firm submitted revised business plan and New Investment Committee of EDB has recommended visiting the company premises to ascertain groundbreaking of the project/investment in land and building prior to recommending the case to the Ministry of Industries.
An auto expert is of the view that the government should have forced the entrants to first set up their plants in the first two years to ensure CKD kits arrival first and then sell the vehicles in the markets.
He said the new entrants should have been made bound to import only 100 CBU vehicles for market testing as the issue of misusing this facility has sent a shockwave in the auto sector which is evident from massive import of brand new vehicles from July 2020 to January 2021.
He was of the view that the ADP 2016-2021 had not proved beneficial for the middle income group buyers who still rely on two wheelers as they cannot dream of brand new vehicles whose prices rise multiple times every year.
One of the auto professionals told Automark that Auto Policy 2016-2021 has proved as a litmus test for the entire automobile industry, though the maturity of the industry was linked with three big players. However, considering the annual volumes of vehicles sold in Pakistan, the auto policy was a great test for existing OEMs.
Despite having a strong backup technical support and experience, all three were unable to face the damage in different areas, losing the volumes, losing the market and losing the after sales may not be a big damage. However, losing a well trained skilled management and team will be unrecoverable for years, he said.
Giving the above situation there were many new entrants who when exposed to direct heat melted even under a year time and were unable to proof them against the big claims, whereas there were couple of them, who were not only able to bring a strong competition in the market but were also delighted the customers with their well known segments and products. Surprisingly a couple of "Zeros shine as Heroes" resulting in making a strong impact of their product in the current market.
"We are happy that with the product war, consumers are delighted and are able to understand the importance of existing OEMs and delight of new ones," he said.
He said ADP 2016-2021 has not only brought up the new products in Pakistani market but also given the maturity to all OEMs and public for a serious competition directing towards the survival of the fittest. One time Investments, job creation and technology transfer to a limited scale was the success of this policy. However, a chain reaction of above at country level in terms of localization is yet awaited. New entrants while enjoying the green and brown field journey are being watched by existing OEMs for the ending of the joy period and preparing for the battle based on equal grounds.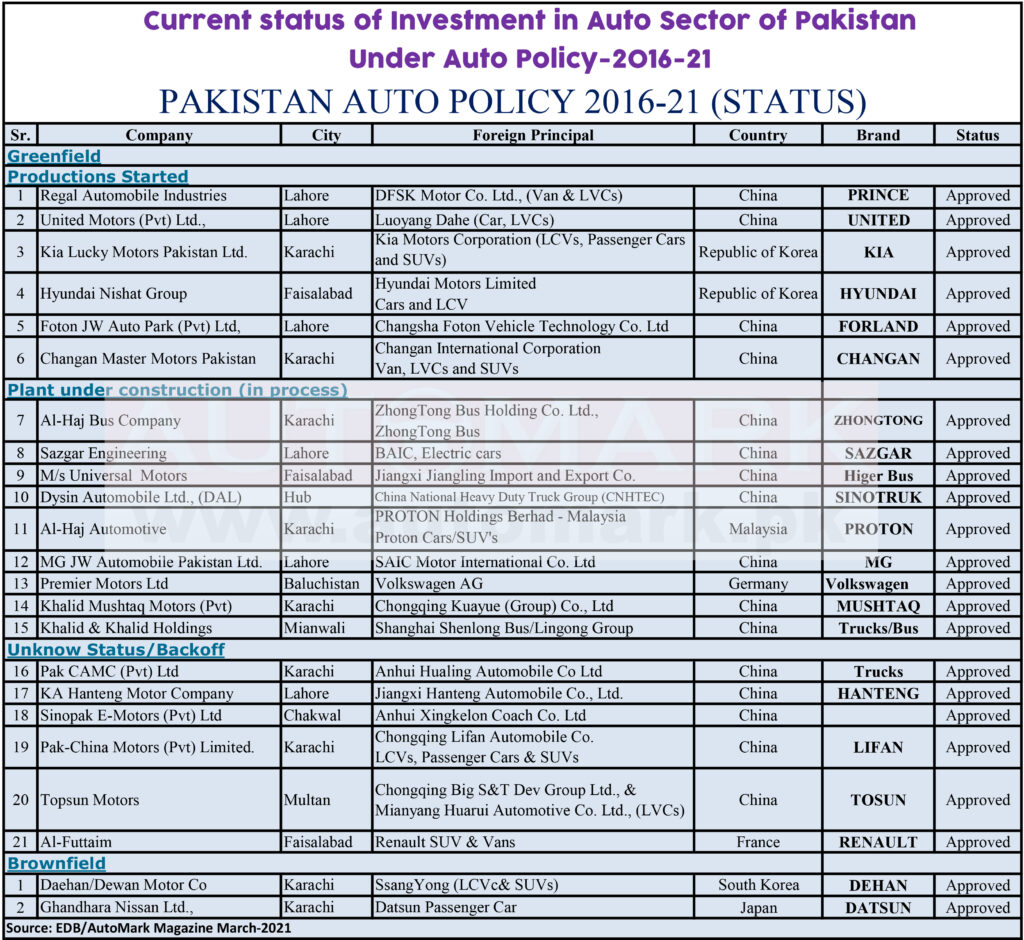 This understanding of deep rooting, the company growth based on maximum localization will decide the future of OEMs at the end of the discount journey, he observed.
When asked what should be the main focus of new auto policy which the previous policy had missed, he said mandatory localization of deleted parts to a specified percentage can draw a hybrid policy resulting in making local suppliers a stakeholder for a mutual success of the industry. Local suppliers were ignored in the last policy resulting in non uniform distribution of rights to success. Giving a mutual benefit to local part manufacturers will create a massive employment opportunity throughout the country. EV is already a subject on the government's table and a new success is expected in new policy.
On further space for more investment in the auto sector based on the current number of players, the auto professional said though the blood bath has already started, however, with improving volumes and demand for technological automobiles, the future is bright.
Country demand for vehicles is improving and economic growth allows us to ascertain and engage more players with auto industry friendly policy.
"Future is EV hence the ground should be opened for the same," he said.
An auto market expert, while giving suggestions for the next Auto Industry Development Policy, told Automark that announcement of new Green or Brown field enterprise must not be announced until they signed an agreement with the Ministry of Production with the firm commitment of establishing the project within the committed time frame.
The agreement must be annexed with the tentative implementation schedule for SOP with all the details about project activities, any extension in the schedule must be approved by AIDP members after visit of a joint team of Ministry of Industries and Production (MoIP), Engineering Development Board (EDB) and Board of Investment (BOI).
A joint team of BOI, MoIP and EDB should visit the enterprise site to witness the on-going progress of the project, he said adding that import of vehicles on a concessional basis should be allowed when the gray structure of the plant is ready.
The permission should be non-transferable and the qualified enterprise should not be allowed to sell the project status, he suggested.
The plant layout should be approved by town planners keeping in view of all safety features of the workers working inside the factory and staff in offices.
Violators must be heavily penalized if they fail to start production after signing an agreement with MoIP and they should not be allowed for five years to import any vehicles for commercial use.
Tractor industry is the backbone of the country, although the existing assemblers are enjoying many incentives but there are no incentives given to new comers or brown field investors. All new investors must be allowed to import CKD on one per cent and 10 per cent custom duty on non-localized and localized components respectively for five years with some other incentives as allowed for others (imports of CBU and plant) like imports of plant and equipment etc.
Special zones with environmental agency approvals and infrastructure availability may be developed for newcomers to avail incentives of income tax and other prevailing taxes for five years.
A price review board should be established to keep an eye on the selling prices of the vehicles allowed under the policy, he strongly suggested adding all safety features as per PSQCA must be built in the vehicles.
All OEMs (existing, new or brownfield) must provide OJT facilities to fresh engineers and diploma holders with reasonable stipends.
The teachers and staff of universities, colleges and institutes teaching automobile courses must be allowed to have in-depth knowledge about the automobile industry by allowing them for OJT at assembly plants.