At first blush, it's lunacy – a 900-horsepower, all-electric supercar from an island nation best known for tea and tourism, not tech.
Yet the team behind the stunning Vega sports car has credentials – and financial backing – befitting similar passion projects emerging in California's Silicon Valley. The effort is the brainchild of technology entrepreneur Harsha Subasinghe, chief executive of Colombo-based CodeGen, a developer of software for the travel and tourism industry. Building a luxury sports car is certainly a departure for Subasinghe, but one with broader objectives than simply a quick zero-to-60mph time. (That'll be 3.5 seconds, according to the Vega's builders.)
Subasinghe envisioned the Vega not only as an all-electric thrill machine, but a demonstration of Sri Lankans' ability to develop advanced transportation technologies.
"Getting people to believe that a complex engineering project like a supercar can come from Sri Lanka is a huge challenge for us," says Beshan Kulapala, the car's project manager. "This country produces some of the best engineers in the world, but in the past we've been afraid to commit to innovative product development for fear of losing, or being ridiculed."
From a purely technological perspective, there seems little chance of that. The car bears a sophisticated silhouette befitting a boutique hypercar, and considerable innovation beneath that sheet metal. Dual electric motors power the rear wheels, producing a combined 900 horsepower with 530 pound-feet of torque. Carbon-fibre construction helps hold vehicle weight to about 3,000lbs – rather remarkable, given the density of the on-board lithium-ion battery packs. The team, comprising over 30 engineers and other personnel, is developing what Kulapala – a 13-year veteran of Intel with a PhD in electrical engineering – calls a state-of-the-art motor controller, and new thinking around battery packaging. Says Kulapala: "The lithium battery modules have a number of innovations in packaging, safety, battery management, system hardware, and firmware and software., "Our eDiff [electronic differential] will also run cutting-edge algorithms to control the vehicle in different road and driving conditions.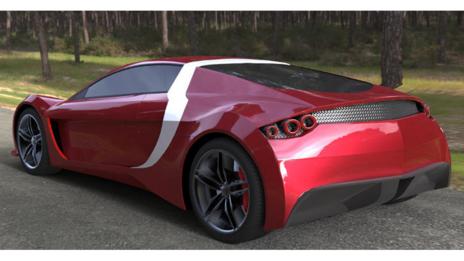 Will it have the same track-attuned chops of a Ferrari or Lamborghini? Not likely, but nor will it be a slouch. That 3.5-second zero-to-60 time places it firmly in supercar territory, and the in-house engineering should help the vehicle – which is expected to cost an Aventador-like $400,000 – achieve a 150-mile range and a top speed of 150mph.
The team has the engineering pieces in place, but bringing the Vega to market may be the  larger challenge. Raw materials and precision tooling needed for key components are not always present in Sri Lanka, Kulapala says. But Sri Lanka is full of surprises. Per capita income of the country has doubled since 2005, and the nation's cellular subscriber base has grown 550% between 2005 and 2010. Sri Lanka was also the first country in south Asia to introduce mobile broadband technology.
"With the vast amount of data available online, we are able to learn and build expertise that we would otherwise lack," Kulapala says. "Sure, we will need time to build experience, but with disciplined research, we are able to not fail where others have already have, and we can be quick to design and engineer products."
CodeGen executive Subasinghe has invested more than $500,000 in the initial development costs to get the idea off the ground. Of course, budgets will head into the tens of millions once the development and testing of prototypes begins, and the company is taking the funding process one step at a time. Kulapala sees this proceeding at an aggressive pace, with the first prototype rolling out by April 2015 and the technology tuning and certification process following.
As every upstart supercar maker discovers soon enough, it's a long road from daydream to reality. Can the Vega make the trip? Sri Lankans have demonstrated impressive tenacity and innovation in recent years, rebuilding after a brutal civil war and a devastating tsunami. If any country seems equipped to rise to such an occasion, it's this one.