In continuation to my last Article "Marketing Dynamics in Automobile Industry", I'll briefly explain how trends are impacting the truck auto industry and how it can be useful for all of us to implement these strategies in marketing. The most important thing in marketing is "Connection", Connection of brand, product, price, promotion to the Consumers, audience, buyers' and customers'. The essence of marketing is to attract customers to a business. Good customers are okay, great customers are best. Every business wants customers just like their best ones.
There was a time when word of mouth was enough to keep a business alive and all it took was a handshake to close a deal, but those days are long gone. Consumers are more connected than ever before and information is right at their fingertips. They can comparison shop interest rates and car prices from their phone while they are sitting in your dealership. This translates into a more competitive market where you either stand out or get left behind. Even the most loyal customers are going to abandon ship if they find out there is a better deal across that street. That is why today's automotive dealers must invest in the right kinds of digital marketing and advertising tools as part of a larger strategy that works to build brand recognition.
Marketing is the process of getting the right goods or services or ideas to the right people at the right place, time, and price, using the right promotion techniques and utilizing the appropriate people to provide the customer service associated with those goods, services, or ideas. This concept is referred to as the "right" principle and is the basis of all marketing strategy. In todays' topic I'll focus on the most fascinating and attractive category of "CargoTruck" traditional marketing style that is missing in all platform of social media, print media and digital platforms.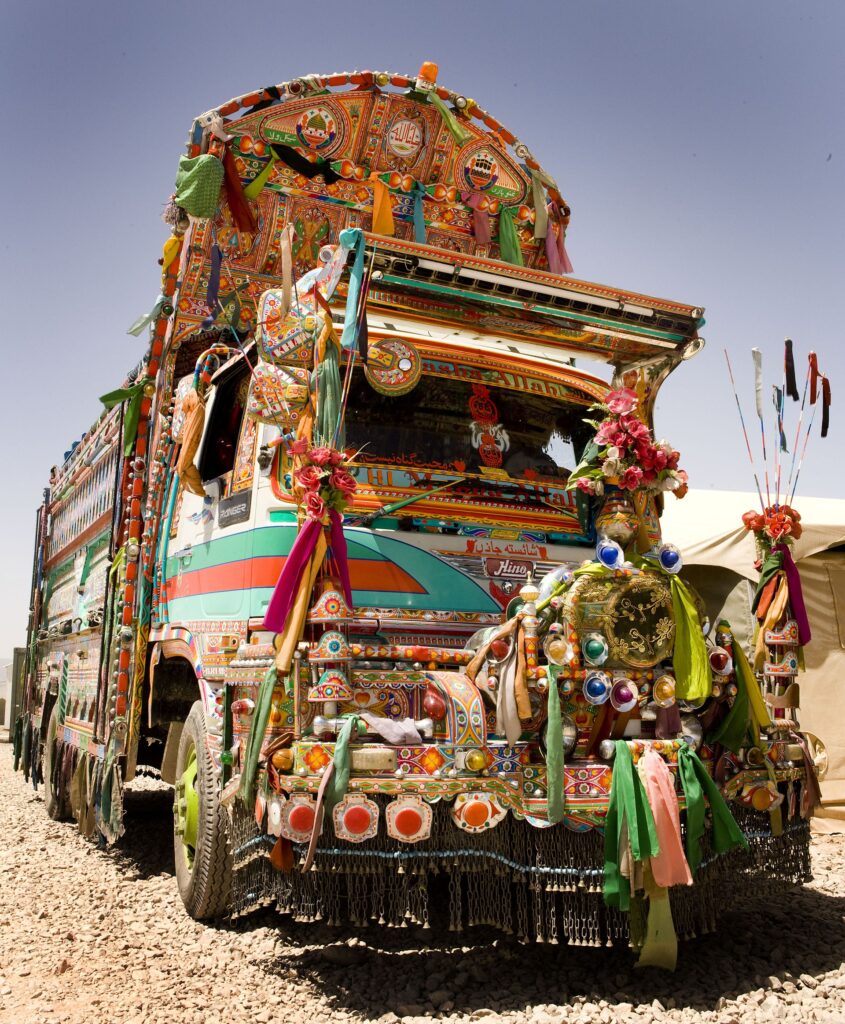 Pakistan is country rich of culture. Everything has its own style carrying from ancient times. Art is not what you see, but what you make others see. In Pakistan you all might haveseen bright, colorful resplendent trucks thundering down streets and highways. In Pakistan, 'truck art' is something beyond social expression; it's also a deeply rooted tradition that can cause a business boom for drivers. Many articles been written on the history behind these moving bits of art.
Let me assure you that "truck art" is one of the most culturally celebrated forms of art in Pakistan. Pakistan have four provinces and every province has its own culture, values, attraction and language. So the versatility of Truck art varies in all region across Pakistan. In Baluchistan and Khyber Pakhtunkhwa they usually used wood work, Rawalpindi and Islamabad plastic work, and the Sindhi truck art mostly features red shading in truck enrichment. Cargo trucks paintings – often coupled with lines of poetry (MaaBoli's), religious calligraphy or common phrases (i-e, just like "GiAya'anNuo", "MaakiDuaa" etc.) – represent the truck driver's identity and regional background. The images on the trucks embody a wide range of themes including celebrities, beautiful women, mythical creatures, religious imagery, and national heroes, comic verses may also be found written on the trucks. Sometimes, chains and pendants are also seen to be hanging with the bumpers of the truck.
Looking back to the history in 1920s, when Bedford trucks imported from England entered the country's streets with customized designs of large wooden prows on top of the truck bed. Known as a Taj, or Crown. In the 1950s, Karachi became a hub of truck art.
According to different articles on "Jingle Trucks", it was written that driver can easily spend up two years' salary to just décor their truck. That's not the end, they do touchups every few years to keep things fresh. Well, the most important thing that we as "Marketing Analysist" should understand that it's not about the money but the Love, Connection and Ownership that they are always ready to pay for it no matter what. For Truck drivers', truck is their home and they spend their major time in the truck often sleep on it or under it.
Truck art is not just an art anymore. It has become an enthusiastic love for culturalism and symbolism, which has transcended the territorial limits of Pakistan, to be praised and acknowledged internationally. Haider Ali who had beautifully exhibited the art on vehicles in UK, Poland, US, Germany, and the United States. He also ornamented a Turkish municipal bus as a part of solidifying Pak-Turk bilateral ties and to promote cultural friendliness between the two countries. Hey, don't you all forget about 2015 campaign, the famous fashion company Dolce & Gabbana used such displays which could clearly be seen as influenced by Pakistani truck art.
Well, you might be thinking why am I explaining all these about "Jingle Trucks". Point is simple; did you ever see any "Culturally Rich" Marketing campaign of Cargo trucks in recent times in Pakistan. People are perceiving truck industry as Passenger vehicle but frankly speaking that is truly "un-fairness" with both the vehicle categories. Passenger vehicles are owned by the buyer itself who wanted luxury, Style, Brand name and experience of International Level While Truck Industry where trucks are mainly purchased by the "Fleet owners", Financers or by the "Logistics Companies", but they don't run these trucks directly, Drivers are the one who actually runs these vehicles but what we missing in Truck Marketing is their (Drivers'/end users') connection to the company (Vehicle offered).
Truck is not just only used for logistics purposes but these days' trucks customized solution been offered by companies to their buyers'/end users such as "Food Truck", "Cold Storage Truck", "Accessories Truck", "Ice Cream Truck". People don't need to rent a shop to run their business, they just need to buy a small, medium or heavy truck as per their need/demand and use that as shop. How Cool, isn't it?
This is the time when Marketing team need to think to "Revamp Company Marketing Strategy especially in Commercial Vehicle Segment"specially to build customer ownership and loyalty to effective marketing product that will result in lead generation and to register the sale later on. This is not the industry where a big showroom can attract the customers, this is the industry where you need to go down to the people like "road shows", free service campaign, "Truck Adda – Get together".Marketing strategy need to have that wow element that hit directly to the customer heart.

Well I'm keeping my article as an open ended to let "Marketing Guru's" think about it and share their ideas to me at [email protected] . If you enjoyed this article and you'd like more information about getting your truck Marketing up and running, wait for my next Article about "Promo Trucks" and "Vehicle Wrap". Till then Remember me in your prayers.
By Rizwana Ashraf
(Automotive Enthusiast, Strategic Analyst & Chinese Language Professional)